Infusement Altar
From Craftland Minecraft Aether Server
Infusement Altar
Type
Item
ID
541
Data value
0
Max stacksize
64
Information
The Infusement Altar was added to Craftland in the 6.0 Update. The altar is used to create items like the

Spectral Pickaxe,

Spectral Shovel,

Tourmaline Pickaxe and other items.
As of Update 8.3, recipes for items such as Citrine Block, Ruby Paxel and the Sapphire Paxel have been removed (But are now craftable in the Crafting Table).
Additionally as of Update 8.3, "Skull Power" no longer exists and skulls are now consumed upon infusing an item.
Usage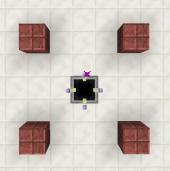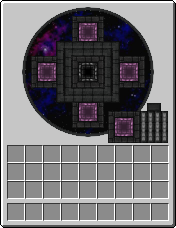 The Infusement Altar must be setup with 4 blocks, one block away in each corner, like the image to the left.
The Infusement altar requires skulls to be placed on top of each piece of dungeon stone. Every different recipe requires a different amount of power and each skull provides a different amount of power. The power is totalled between all 4 skulls, and the altar does not have to have a skull ontop of each dungeon stone.
Fuels
Skulls
Skulls are a neccessary material in powering the Infusement Altar. All skulls that are placed on the four corners are consumed once the recipe has finished.
The recipes within the Infusement Altar currently require specific 4 skull combinations which could use the following;
Stars
The Infusement Altar requires a special type of fuel known as a Star. The list of Stars are:
You can obtain the

Dragon Soul/

Wither Soul from attacking an Ender Dragon/Wither with a

Dark Scythe and then killing them.
Infusement Recipes
There are currently 8 infusement recipes in the game.
Recipe
Other