How to join
From Craftland Minecraft Aether Server
Download the client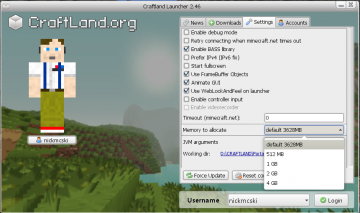 Download the Craftland Launcher on the Website.
Run the launcher, and log in using your normal minecraft credentials.
The launcher will automatically download and install the latest craftland version, this will NOT conflict with any normal minecraft versions, as craftland is stored in its own folder (.craftland).
Register
When you join the server for the first time, you will be prompted to type "/register". This is strongly recommended to ensure you have access to all of craftlands features. Click the link supplied to register with the website. Once it confirmed your registration you will gain the VIP rank, and have permission to use /tp.
Use /spawn if you lose your way.
Install Video
http://www.youtube.com/watch?v=gJ2Gt5pyu7A (A bit outdated)
Rules
See Server Rules
Problem?
If you have any problems, feel free to ask on our irc channel.