Crop Mutator
From Craftland Minecraft Aether Server
Seed Mutator
Type
Item
ID
581
Data value
0
Max stacksize
64
Information
The Crop Mutator (Previously known as the Seed Mutator) is a crafting station within Craftland and is used to create 32 different types of crops and saplings that are normally very hard/impossible to obtain normally.
Examples of crops/saplings include

Plum Tree Sapling,

Sea Bean and

Jabuticaba.
Usage
The user must place 2 materials in the left side and then fuel the Crop Mutator with
Ambrosium Shard/

Ambrosium Blocks. The Crop Mutator will then begin to mutate the 2 crops together.
An Ambrosium Block can fuel the Crop Mutator enough for 60 mutation attempts.
NOTE: The success rate of this is incredibly low.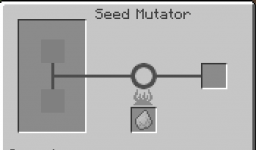 Recipe
Ingredients
Input >> Output
Sand+
Cobblestone+
Stone