Hardcore World
From Craftland Minecraft Aether Server
Hardcore World
Release
Date
September 2nd, 2014
Patch
Between Patch 5.4 and 5.5
World Activities:
PVP
Basic Information
The Hardcore World was a world that was added on the 2nd of September 2014 to give the players of Craftland more things to do. The Hardcore World was self-explainatory in that it was indeed, hardcore. Players could access this world via a spawn portal or using the /hardcore command.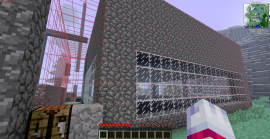 Players had seperate inventories and cannot transfer items between worlds.
Pay was disabled.
Death Chests were disabled.
Any form of teleportation was disabled (Update 5.5 allowed the usage of /home once a bed was placed).
PvP was enabled alongside a 10 second combat timer.
Griefing and Stealing was allowed and no regions were allowed.
This world was replaced with a Hardcore Mining world which was then replaced with the Mining World we know and love.
Generation
The world generated similarly to Greycliff and how the Mining World is today; including biomes such as the Aether and Nether. The world, however, did not generate biomes in square chunks how the Mining World currently does, it looked more natural.
Other