Shadow Sheepuff
From Craftland Minecraft Aether Server
This page is a work in progress.
Please Help edit this page click here For how to join the wiki.
Shadow Sheepuff
Health Pts:
8-10
Found in:
Shadow Skylands
Spawn Rate:
Common
Information
The shadow Sheepuff has the same model and AI as a regular Sheepuff. They come in gray. There are four other variations, which is disco ram, rainbow ram, disco, and rainbow.
Drops
1-2 Wool
A little bit of Flux
1-2 Mutton (Without looting)
Breeding
When fed blueberries or oranges, they breeding animation plays but they do not breed, or give off experience. Tested 2/3/19 by Gribgrab.
Variations
Disco sheepuff - This has a rare rarity.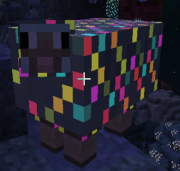 Rainbow sheepuff - This has a rare rarity.
/* No picture yet, ask hiddensavage as he has one.*/
/* No picture yet, ask hiddensavage as he has one.*/
Gallery