Valentines2019
From Craftland Minecraft Aether Server
Release Date:
14th February 2019
Closing Date:
28th February 2019
Patch Released:
8.76
Event Summary
A simple Valentines event for 2019! This event mostly focuses on a Potion Hunt with 20+ milestones!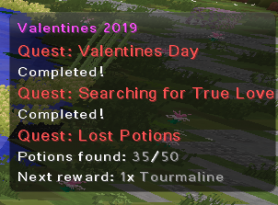 Quests
Potion Hunt
- This Quest is known as Lost Potions in the sidebar.
Similar to Grimlock's Skull Hunt and Xmas's Present Hunt, this hunt requires the player to run around looking for a specific block to right click. In this case, it is a Potion Bottle (pink)! Upon right clicking a potion bottle, the player's total amount of potions increases by 1 (alongside a nice little effect). Below is the milestone requirements;
Traders
Event Designers
The users that made this event happen... (Rank colours are at time of event release)
Trivia
On 2/16/19, Patch 8.762 broke the event, causing everybody's stats to be reset. The server went offline shortly after this was reported, and then stats were reset once again. This caused an estimated 20 stacks of candy that was not supposed to be given out to be given out.
Other Events