Treasure Chest
From Craftland Minecraft Aether Server
Treasure Chest
Type
Block
ID
188
Data value
0
Max stacksize
64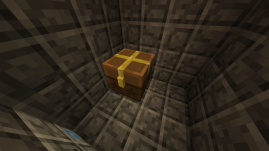 About
The Treasure Chest is a block within Craftland that requires a loot key (

Bronze Key,

Silver Key etc..) to be opened.
These chests spawn within their respective dungeons in the same place every time and their key and itself both become accessible after defeating the Dungeons' respective boss;
How to Obtain
You cannot obtain this block through any means outside of Extended Creative Mode.
Uses
The Treasure Chest is generated within Dungeons and contains the Dungeons' respective loot.
(You can view the loot a Treasure Chest wields on each dungeon page)
Other
The Treasure Chest had its texture updated in the 8.07 - Grimlock 3 Release patch.